To purchase an unlimited correction subscription or an ad free for Ginger Keyboard, please open the main Ginger Page app, either from the keyboard or directly from your app drawer by tapping on the Ginger keyboard icon: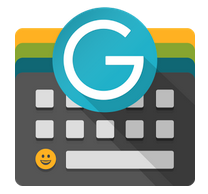 To open Ginger Page from the keyboard, follow theses steps:
1. Load up the Ginger Keyboard by tapping on a blank typing space.
2. Tap on the Ginger Entertainment square icon.

3. Tap on Ginger Page.
When inside Ginger Page:
1. Tap on the menu button.
2. Tap on "UPGRADES".
3. Tap on the preferred service you'd like.
4. Follow the instruction on the screen to complete your purchase.
*Ginger's unlimited correction for your Ginger Keyboard is offered on either a yearly subscription (billed annually) or monthly subscription (billed once a month).
** Ad free is a one time payment feature.